The Upper School Program
Grades 9 through 12 - Boys to be accepted for 2020-2021 School Year
Outstanding Academics
Academy students receive a top-quality education that balances classical subjects and innovative approaches. The school provides a full range of academic classes, art and music, physical fitness and health along with opportunities to access specialized electives through our Virtual High School (VHS).
Academic Levels
Academy students are presented with ongoing opportunities to move between academic levels so that each one will be challenged appropriately and supported academically.
College Preparatory (CP) - Upper School classes are all College Preparatory (CP) courses. To qualify for a diploma each student must earn a minimum 26 CP credits or the equivalent in AP and Honors courses.
Honors - Entering Grade 9 students must take special placement exams to qualify for honors. Honors placement within departments at all other grade levels requires a minimum of an 80 in the prior year's honors course or a 93 in the prior year CP course.
Advanced Placement (AP) - Upper level Advanced Placement (AP) courses are offered throughout the mathematics, science, history, world language and English curriculums. Students seeking to enroll in an AP level class must have at least an 87 in prior related honors courses.
Technologically Savvy
The Academy's commitment to technological innovation is reflected in our technology curriculum and supported by state-of-the-art science and computer labs, use of interactive whiteboard technology and software applications for classroom instruction, a policy that encourages students to bring their own device to school and wireless connectivity in every classroom. In this way we are able to prepare our students to thrive in a digital world.
Athletics
Students can tap into the Academy's strong and accessible athletic program, one in which a large percentage of Academy students participate. Varsity athletes perform strongly in their league, with many teams competing in playoff and state-level competitions. The school is also small enough so that students can try a sport for the first time.
Learn more about Academy Athletics and Sports Highlights.
Spirituality & Character
"Teach them what they need to know for life" is a founding principle for the Academy, one first pronounced by St. Julie Billiart. This principle guides our community of faculty and staff as they commit themselves to help students grow intellectually, spiritually, emotionally, physically and morally.
Our goal is to nurture each student as a unique individual. We seek to know our students and the gifts each one brings to our community while helping each person achieve his/her goals within a caring and supportive environment. The Academy supports spiritual exploration and strong character formation, and promotes leadership and service to those in need. As Catholic school, we are committed to the principles of Catholic moral teachings and social justice, while providing a faithful environment where prayer and liturgical celebrations bind the community.
Learn more about the Academy's Mission and Spiritual Opportunities.
Extracurriculars
Colleges show more interest in students who are well-rounded and know how to balance academics with extra-curriculars so the Academy offers a wide-range of extra-curricular opportunities. Students can sing in our large Glee Club, take the dance floor with the dance team (NDAnce), take the stage with the Drama Guild, or take the podium with Model UN. They can write for the newspaper (Damies' Digest), and help with the yearbook and art/literary magazine (The Muse). Clubs are abundant at the Academy and new ones are always being created by students with a passion for a particular cause or interest. Each year there are about 20 clubs available for students to choose from.
Learn more about clubs and Student Life at the Academy.
Leadership
The Academy nurtures student leaders at every turn – whether students want to lead in front or from the sidelines. Students take charge at the Academy, with teachers supporting from the sidelines. Students are encouraged and supported to add their talents and leave their unique mark on the Academy!
Learn more about Leadership Opportunities at the Academy.
Hands-On
Our hands-on approach to lab science study makes learning fun, innovative and relevant. Students don't just learn about subjects at the Academy; they take part actively in the learning process through discussion-oriented and hands-on courses. Providing our students with hands-on lab experience has helped to inspire more than 50% of graduates since 2015 to declare a major in a science, technology, engineering, or math field.
Learn more about the Academy's Academic Curriculum.
Academic Support
The small-school environment, with an overall teacher to student ratio of 1:8, ensures that students get the support they need for personal success. Our unique Directed Learning Time (DLT), gives students in-school time to work on homework and get extra help from teachers. Teachers will also help students before school, after school and during lunch. The National Honor Society (NHS) also offers free tutoring during the school day. At the Academy, students will get all the support they need to achieve their personal best.
What about Boys?
In November, 2019, the NDA Board of Directors voted to accept boys for the 2020-2021 School Year. The Corporation Board of the Sisters for Notre Dame de Namur reviewed this vote and approved this decision. We look forward to welcoming young men to our Upper School for the 2020-2021 School Year.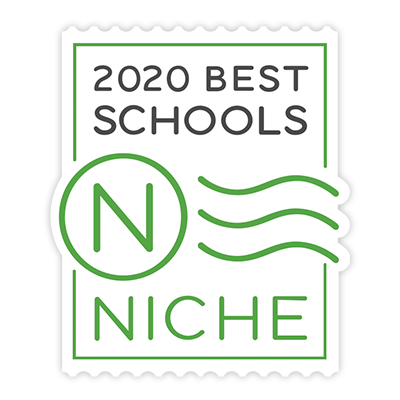 Ranked #9 in Niche.com's "Best Catholic High Schools in Massachusetts"
---
Quick Links
"The Academy teaches you how to work hard and manage your time, which are foundational skills for college. Being surrounded by other students who are working hard to reach their full potential inspired me to do the same. The experience was empowering not competitive and fully prepared me for the workload of college." - Mary Kate McCarthy '14